Solar Energy Newsletter
Solar Energy Alerts! is my FREE solar energy newsletter dedicated to homeowners.

Subscribe Today...
Get solar news updates critical to homeowners interested in solar
Stay informed about upcoming solar events in your area
Keep up to date with the latest solar technology and products
...And Receive a FREE GIFT for Signing Up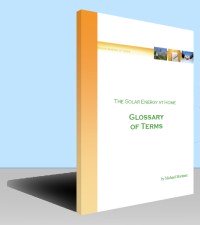 In addition to all of the valuable solar information you'll read about in each issue, by subscribing to my solar newsletter today, you'll also receive a FREE GIFT...
The Solar Energy At Home Glossary of Terms
This 46 page ebook contains definitions for more than 400 solar terms and acronyms.
You'll refer to this handy reference over and over as you create your solar home.
All this and more with your FREE subscription to Solar Energy Alerts! 

Don't wait, subscribe today to begin receiving the only solar power newsletter dedicated to homeowners.

---
Home > Solar Energy Newsletter
---