Eilat-Eilot International Renewable Energy Conference & Exhibition 2011
by Avigail Frij
(Eilat, Israel)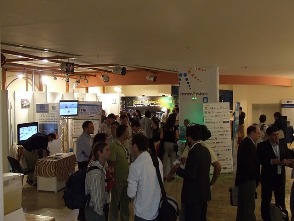 Part of the Eilat-Eilot Int'l Renewable Energy Conference & Exhibition 2010

We invite you to join us at the 4th Eilat-Eilot International Renewable Energy Conference 2011 to take place on February 22 – 24, 2011, and be a part of building a brighter future. Come for this three-day conference in which we will gather together to discuss and share ideas, as well as seek out business partners that will help us all make the difference in energy policy, green education, renewable energy and energy conservation R&D, renewable energy commercialization and innovative technology application.

iConsortium, the Israel Energy & Security Consortium, is a partner in the 4th Eilat-Eilot International Renewable Energy Conference 2011. This is the fourth year that iConsortium is devoting its energies to help promote and organize this trail-blazing conference on renewable energy. We are fully committed to helping the Eilat-Eilot Renewable Energy Initiative to bring energy independence to the Eilat region and believe that this project is the pioneering endeavor that will serve as a model for solving the energy crisis in which not only Israel, but all nations can emulate to free themselves of dependence of foreign oil while developing sources of clean safe energy.

We will be seeking out new business partners, members and clients for joint ventures in R&D and in sales of integrated energy saving building projects and energy plants.

The Eilat-Eilot Renewable Energy International Conference and Exhibition is among the world's leading platforms for presenting technological innovation, business opportunities, policies and implementation in the renewable energy field. The conference brings together thousands of participants from all over Israel and abroad. For three full days, participants take part in:
Lectures from worldwide senior energy industry leaders
Intensive discussions on policy and implementation toward energy independence
Top notch business networking in all aspects of renewable energy and energy conservation
A tour of the renewable energy deployments of the Eilat-Eilat Renewable Energy Initiative
Learn more about the latest innovations in clean energy, such as solar energy, wind energy and energy efficiency
And more
For more information see:
http://renewable-energy-eilat.org/ic/
During the conference, engaging meetings take place that lead to tangible results in the field. The previous conferences have established this event as the leading Renewable Energy conference in Israel, as well as a conference of global significance.
Why should you attend?
Be a part of one of the most renown international renewable energy conference where all the major Israeli energy players and innovators come together to talk energy
Enjoy a "one-stop-shop" for everything that Israel has to offer in the area of renewable energy innovation and business opportunities. You just may find the next game-changing technological breakthrough right here!
Promote your innovative idea/technology by introducing it to the Arava Technological Center, Israel's leading commercialization power house
Connections made in Eilat-Eilot Renewable Energy conferences have brought about major national and international business deals, such as Siemens investment in local Arava Power and Aora Energy's success in raising capital for deploying their revolutionary commercial pilot project in the Arava region.
Learn about our region's unique model for solving the energy crisis while creating exceptional economic growth.
Tour the Eilat-Eilot Renewable Energy project sites and see for yourself.
Listen to leading international speakers discuss the world's sustainable energy future
Escape winter to enjoy excellent weather and our Red Sea beaches in Eilat. Eilat's proximity to Israel's unique renewable energy projects is a winning combination creating a hospitable and fruitful working environment
For more information see:
http://renewable-energy-eilat.org/ic/